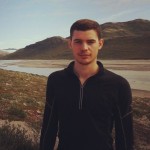 Luciano Mastrobuoni
Master Student
Room 34-H-40
+41 44 635 46 86
l.mastrobuoni@gassergroup.com


Luciano was born in Schaffhausen, Switzerland in 1989. After completion of the high school in 2008 and a language stay in England, he attended an annual course at the Zurich University of Arts. Following his great interest in chemistry during his high-school years, Luciano started his chemical education at ETH Zurich in 2010. He contributed to the synthesis of new ferrocenyl sulfide and sulfoxide ligands as part of a SiROP project under the supervision of Peter Ludwig in the Togni group, which arose his interest in inorganic and organometallic chemistry. After completion of his Bachelor degree at the University of Zurich in 2014, Luciano is attending the master study course at the UZH. In the Gasser Group, he is currently taking part in a research project under the assistance of Jeannine Hess, working on  derivatization of a pharmaceutical compound with ferrocene.
Luciano enjoys vespertine jogging and swimming activity and hiking in northern places. He loves to relax with delicate cooking making his kitchen a well frequented place. His specialty is a flour-free smooth chocolate roulade. He is also passionate about creating and sewing his own clothes.