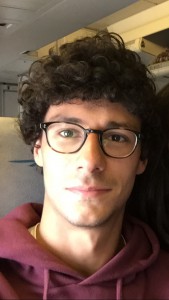 Scandeur Dakhlaoui
Msc Student
Chimie ParisTech
PSL Research University
Laboratory for Inorganic Chemical Biology
scandeur.dakhlaoui@gassergroup.com
Scandeur was born near Paris. Later, he moved to the most beautiful/rainy region of France, Normandy (Rouen) before finally returning to Paris in 2014, when he joined the École Normale Supérieure de Cachan.
He is currently a Master student who chose to undertake his internship at the frontier between chemistry and biology. He is working in the groups of Prof. Clotilde Policar and Dr. Gilles Gasser on the synthesis and biological evaluation of organometallic compounds against schistosomiasis. After his Master, he envisages to become a chemistry teacher.
Scandeur loves travelling around the world and hanging out with his friends. Of course, as a French guy, he likes good dishes and wine (with a preference for the white one)!