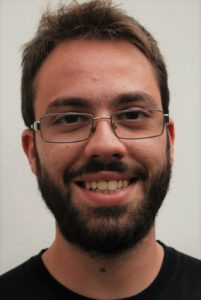 Alessio Maria Caramiello
Exchange PhD Student
Chimie ParisTech
PSL University
CNRS
Institute of Chemistry for Life and Health Sciences
Laboratory for Inorganic Chemical Biology
+33 1 85 78 41 53
alessio.caramiello@chimieparistech.psl.eu
Alessio was born in Voghera, a small town near the hills of Oltrepò Pavese in Italy in 1990.
From 2009 to 2013, he worked as a Rescuer/Instructor/Plant Director in ParcoAvventura adventure park, then he decided that his childhood passion, chemistry, had to be cultivated. In 2016, he obtained his B.Sc. in Chemistry at Università degli Studi di Milano with the help of Prof. Anna Bernardi and her group. His work was based on the synthesis of key intermediates for a library of mannose-based glycomimetic compounds targeting DC-SIGN. Two years after, he entered the group of the ERC Grant winner Prof. Dr. Sara Sattin of Università degli Studi di Milano, and with her help he gained his M.Sc. in Chemical Sciences with full marks, defending a thesis entitled "Synthesis of HSP90 Allosteric Modulators and Fluorescent Probes". After the graduation, he worked as a researcher in the laboratories of Stahl Italy S.R.L., a leading company in the leather industry. He was then hired byTeofarma S.R.L. working mainly as a QC Analyst. In fall 2019, he won a Ph.D. scholarship from Politecnico di Milano where he joined the group of Prof. Dr. Alessandro Volonterio; his research is focused on the synthesis of peptidomimetics with IDE-regulating activity and the investigation of their ability to work as β-turn mimetics. In fall 2022, he joined the group of Prof. Gilles Gasser at Chimie ParisTech, PSL University, where he is studying the chemical functionalization of ruthenium- or osmium-based phototherapeutic anticancer complexes with a guanidinoneomycin derivative.
Alessio is also a drummer and he loves destroying stages with thrash metal music. He loves hiking and climbing mountains.
Publications
[1] A.M.Caramiello, A.Sacchetti, A.Volonterio, Synthesis and Biological Evaluation of Novel Hydantoin-based Peptidomimetics, 2020, flash communication, Book of Abstracts of the Autumn Meeting for Young Chemists in Biomedical Sciences
[2] A.M.Caramiello, A.Sacchetti, A.Volonterio, Synthesis and Biological Evaluation of Novel Hydantoin-based Peptidomimetics, 2020, oral communication, Book of Abstracts of the 1st Virtual Symposium on Pericyclic Reactions and Synthesis of Carbo- and Heterocyclic Systems
[3] A.M.Caramiello, A.Sacchetti, A.Volonterio, Synthesis of Novel Hydantoin-based Peptidomimetics as a New Weapon Against Neurodegenerative Disorders, 2020, poster presentation, Book of Abstracts of the 3rd Brainstorming Research Assembly for Young Neuroscientists
[4] A.M.Caramiello, A.Sacchetti, A.Volonterio, Synthesis and Biological Evaluation of Novel Hydantoin-based Peptidomimetics, 2021, oral communication, Book of Abstracts of XLV "A.Corbella" International Summer School on Organic Synthesis
[5] A.M.Caramiello, G.Ossard, A.Sacchetti, A.Volonterio, Synthesis and Biological Evaluation of Novel Hydantoin-based Peptidomimetics, 2021, poster presentation, Book of Abstracts of the 1st ScienceS@Si Scientific Symposium at University of Siena