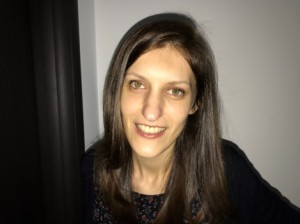 Alexandra-Cristina Ticea
Assistant Professor
Chimie ParisTech
PSL University
Laboratory for Inorganic Chemical Biology
+33 1 44 27 56 04
cristina.muntenau@gassergroup.com
Cristina was born in 1988 in Ploiesti, a city in Romania, and moved to Bucharest to attend the courses of Carol Davila University of Medicine and Pharmacy, Faculty of Pharmacy. Following graduation, in 2012, she enrolled at the same University for her PhD studies. During her PhD research, she investigated the therapeutical potential of novel metal complexes of flavonoids. At the moment, she is an assistant professor at the General and Inorganic Chemistry Department at Carol Davila University.
Her three-month stay in the Gasser Group comes as a result of her being awarded a postdoctoral research scholarship by l'Institut Français de Roumanie; she's been offered further support from Carol Davila University. She is currently working in Paris on developing new ruthenium(II) anticancer agents.
In her spare time, she likes reading, watching movies, traveling, playing board games and eating chocolate.
Awards
2018: awarded a postdoctoral research scholarship by l'Institut Français de Roumanie
2018: 3rd prize of the MDPI Writing Prize for the essay on the subject of "The global benefits of open research" (http://www.mdpi.com/about/announcements/1184)
2017: two articles (*) rewarded by the Romanian Executive Agency for Higher Education, Research, Development and Innovation Funding (UEFISCDI)
2014: awarded a doctoral scholarship funded through the project entitled CERO – Career profile: Romanian Researcher, Grant no. POSDRU/159/1.5/S/135760
Publications
 [1]     Uivarosi V., Munteanu A.C., Velescu B., Aldea V. (2018) Vanadium compounds investigated as potential antidiabetic drugs article published in the INTERDIAB 2018 Conference Proceedings Volume, Surgical Crossroads with Diabetes Mellitus, p. 245-259
[2]     Uivarosi V., Munteanu A.C. (2017) Flavonoid complexes as promising anticancer metallodrugs in Flavonoids – From Biosynthesis to Human Health (Editor Justino GC), Rijeka, Croatia: InTechOpen, ISBN 978-953-51-3423-7, p. 305-334. doi: 10.5772/67879
[3]     Rusu A., Hancu G., Munteanu A.C., Uivarosi V. (2017) Development perspectives of silver complexes with antibacterial quinolones: successful or not? Journal of Organometallic Chemistry, 839:19-30 *
[4]     Munteanu A.C., Badea M., Olar R., Silvestro L., Dulea C., Negut C.D., Uivarosi V. (2016) Synthesis and Structural Investigation of New Bio-Relevant Complexes of Lanthanides with 5-Hydroxyflavone: DNA Binding and Protein Interaction Studies Molecules, 21:1737 *
[5]     Munteanu A.C., Uivarosi V., Andries A. (2015) Recent progress in understanding the molecular mechanisms of radioresistance in Deinococcus bacteria Extremophiles, 19(4):707-719
[6]       Uivarosi V., Pahontu E. M., Munteanu A. (2014) Synthesis, characterization and fluorescent properties of new complexes of 5-hydroxyflavone with some divalent metal ions Chemistry Magazine, 65(1):33-38