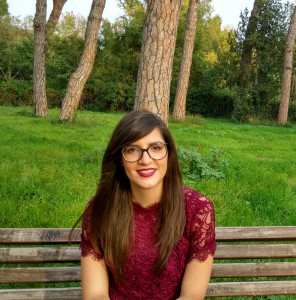 Anna Notaro
PhD Student
Chimie ParisTech
PSL University
CNRS
Institute of Chemistry for Life and Health Sciences
Laboratory for Inorganic Chemical Biology
+33 1 44 27 56 04
anna.notaro@gassergroup.com
Anna was born and raised in Teano, a small and old city in the south of Italy. During high school she discovered her strong interest in science, particularly, biology and chemistry. In 2010 she moved to Naples and started to study Chemistry at University of Naples "Federico II". During her bachelor degree she was working on the isolation, purification and deacylation of Lipid-A of Escherichia Coli under the supervision of Prof. M.M. Corsaro. After her graduation in 2013, she started a Master program in Chemical Sciences at the same University. During these years she experienced living and studying abroad; thanks to the Erasmus program she spent six months at KU Leuven (Belgium) were she was undertaking exams about chemistry and pharmaceutical sciences. She focused on Organic Synthesis for her Master thesis working with iminosugars of different configurations under the supervision of Dr. A. Guaragna and Dr. D. D'Alonzo. During her thesis traineeship she spent six months in Galway at National University of Ireland working under the supervision of Professor Paul V. Murphy in the frame of an Erasmus plus for traineeship program. She graduated in 2016 and after more than one year of working with carbohydrate synthesis she decided to join the Gasser Group as PhD student in order to wide her field of experiences. In Paris, she is working on the preparation and characterization of novel, cytotoxic Ru(II) complexes.
She loves reading, travelling and taking pictures. Moreover, as any Italian, she enjoys tasting good dishes and wines with friends.