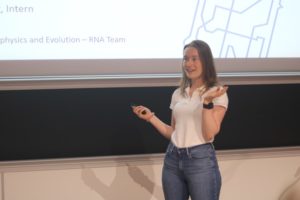 Camille Evin
Msc Student
Chimie ParisTech
PSL University
CNRS
Institute of Chemistry for Life and Health Sciences
Laboratory for Inorganic Chemical Biology
+33 1 44 27 56 04
camille.evin@etu.chimieparistech.psl.eu
Camille was born in 1999 near Paris but spent the first five years of her life in Toronto, Canada. After completing high school, she studied Chemistry and Biochemistry in Paris-Saclay University for her undergraduate degree.
In 2020, she started her MSc Chemistry and Life Sciences in PSL University where she discovered the fields of Bioinorganic Chemistry and Origins of Life research; the latter being the topic of her first MSc internship in Philippe Nghe's lab in ESPCI.
Curious and willing to discover new horizons, she is currently taking a gap year, and starts it off with a 6-month internship in the Gasser and Cariou laboratory, working on the synthesis of metal complexes for diagnosis and therapy.
In her free time, Camille enjoys sports such as paragliding, horse riding, tennis and martial arts; as well as music: she plays the piano and sings!