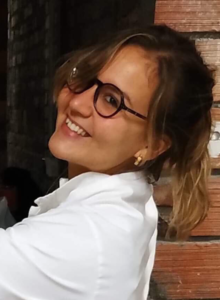 Capucine Mahe
Chimie ParisTech
PSL University
CNRS
Institute of Chemistry for Life and Health Sciences
Laboratory for Inorganic Chemical Biology
+33 1 44 27 56 04
capucine.mahe@chimieparistech.psl.eu
Capucine was born and raised in a small city near Paris, Suresnes. She started her undergraduated studies with prep classes in Lycée Lakanal, Sceaux. She then chose to move to the Capital by going to Chimie ParisTech, where she had the opportunity to leave the country far away for 5 months, by doing an internship with Sir Steve G. Davies in Oxford, England. She then performed her master at UPMC/PSL in molecular chemistry and decided to get away from the city for a 6-months internship at Sanofi in Chilly Mazarin. She then decided to definitively leave Paris by moving to the countryside to join Dr. Kevin Cariou's team at ICSN, in Gif-sur-Yvette, in October 2018. However, after a year being away from Paris, she moved back to Chimie Paris, where she will finish her thesis. Her work is about the generation of ketenimines and synthesis of new ynamides.
During her free time, Capucine mostly dances and sings (in the lab as well), chats about anything, and practices free run.