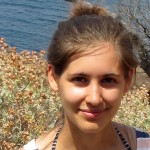 Luciano Mastrobuoni
Master Student
Room 34-H-40
+41 44 635 46 86
elisa.fusini@gassergroup.com


Elisa was born in Sorengo (Ticino, Switzerland) in 1990. She attended primary school in Breganzona and secondary school in Sorengo. After completing the high school in Breganzona in 2009, she decided to study chemistry at the ETH in Zurich. She obtained a bachelor degree in spring 2014. After her graduation, she moved from ETH to the University of Zurich to pursue her Master. She has started her master thesis in the group of Prof. Gilles Gasser in February 2015, where she is currently studying the potential of new ruthenium complexes as anti-cancer agents.
In her spare time, Elisa loves to read books, watch nice movies and meet (and chat) with friends. During the summer she also enjoys doing some hiking in the beautiful mountains of Ticino.