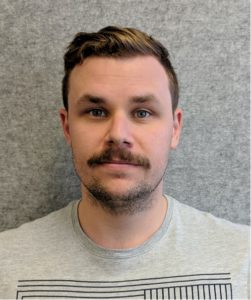 Dr. Harley Betts
Post-Doc
Chimie ParisTech
PSL University
CNRS
Institute of Chemistry for Life and Health Sciences
Laboratory for Inorganic Chemical Biology
+33 1 44 27 56 04
harley.betts@chimieparistech.psl.eu
Harley was born the small rural town of Pt Augusta in the Mid-North of South Australia but left to live in the state's capital of Adelaide when just a toddler. It was in Adelaide that Harley completed his education, from pre-school through to his doctoral degree in 2020. His PhD was conducted under the supervision of Profs Hugh Harris and Christopher Sumby, and Dr Christopher McDevitt. His thesis was focused on the biochemical fate and molecular targets of ionic silver exposed to human blood, and bacterial cultures in vitro. He was also working on the development of silver-containing materials for use as antibacterial agents.
His post-doctoral research in the Gasser Group is currently focused on the development of metal-based antifungal and antiparasitic drugs.
In his spare time, Harley is an avid student of history and politics, enjoys getting his hands dirty in the garden, and traveling (mostly around Australia, thus far).
Awards
Don Stranks Award nominee for "outstanding performance in research within a current PhD candidature" (2019).
Dean's Commendation for Doctoral Thesis Excellence (2018).
Publications
Betts, H. D., Linder-Patton, O. M., Sumby, C. J., A stable coordination polymer based on rod-like silver(I) nodes with contiguous Ag-S binding, Molecules, 2020, 25(19), 4548.