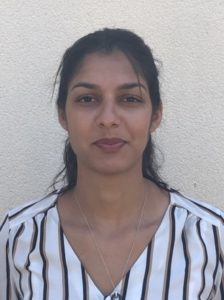 Ivanna Amarsy
PhD Student
Chimie ParisTech
PSL University
CNRS
Institute of Chemistry for Health and Life Sciences
Laboratory for Inorganic Chemical Biology
+33 1 44 27 56 04
ivanna.amarsy@chimieparistech.psl.eu
Ivanna was born in Montpellier (France) before moving to Houilles (France, next to Paris) for her entire schooling. She obtained a bi-disciplinary Bachelor's degree in biology-chemistry at the University of Paris-Saclay and then her Master's degree in organic chemistry at the same University.
Ivanna is currently performing her PhD thesis in the Gasser Grouip in co-supervision with Prof. Sébastien Papot (University of Poitiers) thanks to the funding of an industrial partner.
During her free time, Ivanna loves travelling and watching movies. Her first hobby has been horse riding for 16 years.