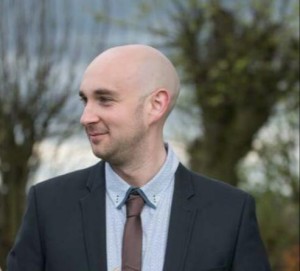 Dr. Joe Cowell
Post-doctoral Researcher
Chimie ParisTech
PSL University
CNRS
Institute of Chemistry for Life and Health Sciences
Laboratory for Inorganic Chemical Biology
+33 1 44 27 56 04
joe.cowell@gassergroup.com
Joe was born and grew up in Newcastle, UK. Upon completing his master's degree and Newcastle University, he stayed on to do a PhD under the supervision of Dr Michael Hall looking at the synthesis of biologically active compounds via a novel Diels-Alder / Ene reaction sequence. Following his PhD he completed a 9 month PDRA between Newcastle University and Demuris Ltd. looking at natural product isolation and semi-synthesis before spending two years at the University of Reading looking at the synthesis of ligands for selective lanthanide and actinide separation under the supervision of Prof. Laurence Harwood.
Joe is now a PDRA in the Gasser group working on the synthesis of 89Zr ligands for use in radio imaging.
In his spare time, he enjoys football, travel and hanging out with friends.
Publications
1) Oxley, A.; Berry, P.; Taylor, G. A.; Cowell, J.; Hall, M. J.; Hesketh, J.; Lietz, G.; Boddy, A. V.; "An LC/MS/MS method for stable isotope dilution studies of β-carotene bioavailability, bioconversion and vitamin A status in humans" Journal of Lipid Research, 2014, 55, 319-328.
2) Cowell, J.; Morton, S.; Abualnaja, M.; Linder, R.; Buckingham, F.; Waddell, P.G.; Probert, M.R.; Hall, M. J.; "Diastereoselective synthesis of functionalised carbazoles via a sequential Diels–Alder/ene reaction strategy" RSC Advances, 2015, 5, 16125-16152.
3) Cowell, J.; Harrington, R.W.; Probert, M.R.; Hall, M.J.; "Enantioselective synthesis of functionalised tetrahydrocarbazoles via an organocatalysed Diels-Alder/ene reaction strategy" Tetrahedron: Asymmetry, 2015, 26, 1189-1196.
4) Cowell, J.; Buck, M.; Essa, A.H.; Clarke, R.; Voller, W.; Voller, D.; Hilkens, C.; Isaacs, J.; Hall, M.J.; Gray, J.; "Traceless-Cleavage of Protein-Biotin Conjugates Under Biologically-Compatible Conditions" ChemBioChem, 2017, 18, 1688-1691.
5) Afsar, A.; Cowell, J.; Distler, P.; Harwood, L.M.; John, J.; Westwood, J.; "Synthesis of novel BTPhen-functionalized silica-coated magnetic nanoparticles for separating trivalent actinides and lanthanides" Synlett, 2017, 28, 2795-2799.
6) Pepper, S.E.; Whittle, K.R.; Harwood, L.M.; Cowell, J.; Lee, T.S; Ogden, M.D.; "Cobalt and nickel uptake by silica-based extractants" Separation Science and Technology, DOI: 10.1080/01496395.2017.1405034.
7) Westwood, J.; Harwood, L.M.; Afsar, A.; Cowell, J.; Distler, P.; John, J.; "Synthesis and screening of a novel (dppz)-BTPhen ligand for the separation of americium and europium" Letters in Organic Chemistry, 2018, 15, 340-344.