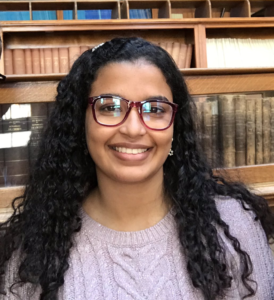 Lauren V. Fernandez Vega
Exchange Ph D student
Chimie ParisTech
PSL University
CNRS
Institute of Chemistry for Life and Health Sciences
Laboratory for Inorganic Chemical Biology
+33 1 44 27 56 04
lauren.fernandez@gassergroup.com
Lauren was born in Ciénaga-Magdalena, Colombia. She obtained her BSc in chemistry on 2014 at Universidad del Atlántico in Barranquilla. During her studies as an undergrad, she carried out organic synthesis of aminocarbonitriles-type compounds and computational studies using DFT methods. In 2015, she started her Ph D in University of Puerto Rico- Rio Piedras campus in Bioinorganic in Tinoco laboratory.
Currently, she has been awarded with the Chateaubriand fellowship from the embassy of France in the Unites States. The fellowship allows to Lauren to move at Chimie ParisTech to continue her thesis project in the Gasser group.
She likes traveling, cooking, watching TV series and movies and listening to music.
Awards

2018 Chateaubriand Fellowship, Embassy of France in the United States
2018 Post-Hurricane Maria Aid for Researchers Grant Program, AAAS-Caribbean Division and Ciencia Puerto Rico and Puerto Rico Science Technology and Research Trust
Publications
[1] Gaur, K.; Vázquez-Salgado, A.; Duran-Camacho, G.; Dominguez-Martinez, I.; Benjamín-Rivera, J.; Fernández-Vega, L.; Carmona Sarabia, L.; Cruz García, A.; Pérez-Deliz, F.; Méndez Román, J., Iron and Copper Intracellular Chelation as an Anticancer Drug Strategy. Inorganics 2018, 6, 126.
[2] Das, S.; Parga, K.; Chakraborty, I.; Tinoco, A.D.; Delgado, Y.; Lopez, P.M.; Fernández Vega, L.; Sanakis, Y.; Ghosh, Y.; Ghosh, S.; Bankson, J.; Klostergaard, J.; Gonzalez-Mendez, R.; Raptis, R.G.* "Octanuclear iron-oxo clusters enhance contrast in magnetic resonance imaging in vitro and in vivo." Journal of inorganic biochemistry 2018, 186, 176-186.
[3] L. Fernández*, M. Ruidiaz, L. Pérez, A. Pérez-Gamboa, "Structural, spectroscopic and optical properties of 4-(6- (dimethylamino)benzo[d]thiazol-2-yl)benzonitrile as a model of system D-E-A by computational methods", Prospectiva 2018, 16, 114-123.
.