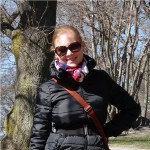 Lea Gemperle
Master Student
Room 34-H-40
+41 44 635 46 86
lea.gemperle@gassergroup.com


Lea was born in the canton Zug in 1990. She attended her elementary and secondary school in Hünenberg (ZG). She finished her high school in Zug in 2010. After graduation she started to study chemistry at the University of Zurich.
During a research internship in summer 2013 in the Gasser group she worked on the preparation of enantiomerically pure Ru(II) complexes with possible antiproliferative activities. Because of her interests in medicinal inorganic/organometallic chemistry, she decided to do her Master thesis in the Gasser goup. Since February 2014, she is trying to prepare novel organometallic-based antiparasitic agents.
She likes to play squash and to go swimming. When she is too tired to do some sports she likes to read books or watch her Dzhungarian dwarf hamster. Lea travels to other countries as often as possible.
---
Publications
[1] Joshi, V. Pierroz, C. Mari, L. Gemperle, S. Ferrari and G. Gasser, Angew. Chem. Int. Ed., 2014, accepted, DOI:10.1002/anie.201309576