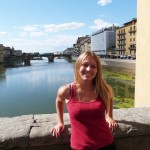 Manon Briand
PhD Student
Room 34-H-40
+41 44 635 46 86
manon.briand@gassergroup.com


Manon was born in a small village of Brittany in France on 13 October 1991. She grew up in rural areas of this rainy yet wonderful region. Her interest for science has always existed but her passion for chemistry was born at the Secondary School. She started her studies in this field at Rennes 1 University, where she obtained her Bachelor's Degree in 2013. Then, she received her Master's Degree at Aix-Marseille University in the South of France in 2015.
Her great thirst for learning made her decide to enroll for a PhD thesis. Thus, she joined the Gasser Group on 1 October 2015 as a Ph.D. student as part of a project with Prof. Thomas Mindt from the ETHZ. She is currently working on the synthesis of novel chelators for 89Zr for application in immuno-PET.
In her free time, Manon enjoys travelling, reading, tasting dishes and good red wines.