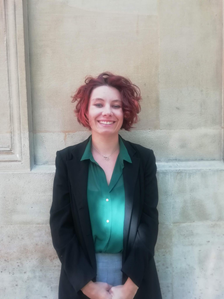 Manon Fleszar
Msc Student
Chimie ParisTech
PSL University
CNRS
Institute of Chemistry for Health and Life Sciences
Laboratory for Inorganic Chemical Biology
+33 1 85 78 41 53
manon.fleszar@chimieparistech.psl.eu
Manon was born near Paris and lived almost her entire live in the Paris area, expect for two expat trips when she was young (in Tokyo and Kuala Lumpur). Following high school, she studied three years in "classes préparatoires" before being accepted at the Ecole Normale Supérieure in Chemistry in 2017. There, she completed her Bachelor Degree and began a Master in Molecular Chemistry. During her years at the ENS, she decided to specialize in medicinal and organometallic chemistry as well as following courses in biology to have a better understanding of living systems.
She is currently in the second year of her Master's Degree in Molecular Chemistry at Sorbonne Université, and is undergoing a 5 months internship within the Gasser Group. At the end of the school year, she will have completed her diploma at the ENS as well as her Masters.
She enjoys rock climbing (especially in the mountains), skiing and practices pole dance. She reads almost a book a week and loves video games, and one of her dreams is having a closet full of board games. Finally, one of her biggest passion is ballet, even though she doesn't practices, she watches performances very often.