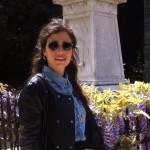 Mariangela Campo
Exchange Master Student
Room 34-H-40
+41 44 635 46 86
mariangela.campo@gassergroup.com


Mariangela was born in 1987 in Castelvetrano (Sicily) and attended High school at the Liceo Scientifico there. Directly after school, she moved to Palermo, a Sicily city very charming and full of stories and traditions, to study Chemistry. After her Bachelor in Chemistry at the Faculty of Mathematical, Physical and Natural Sciences, she started her Master of Science in Chemistry at the same university, where she graduated 2013. In her master thesis, she studied metal complexes with heterocyclic ligands: synthesis, DNA-binding and anticancer properties. The thesis was carried out in collaboration with the section of Endocrinology of the Polyclinic hospital, University of Palermo. During her studies, she performed a training  on the determination of anions using ion chromatography and UV-Vis spectrophotometry of water intended for human consumption. After that, she reached a license to practice and worked as a Chemist at the ESA laboratories of Sicilian Region, Palermo, on the quality control and accreditation of analytical methods.
Mariangela then worked in another chemical laboratory in Palermo and used different techniques such as GC-MS, FTIR, UV-Vis. Meanwhile she taught chemistry in several schools for a project of scientific. In May 2015 she won a contest of specialization abroad, that allowed her to come working at the University of Zurich in the Gasser Group.
In her free time, she likes to play the guitar, meet with friends for a drink and go shopping. Mariangela also loves photography and to devote time for the preparation of culinary specialties.