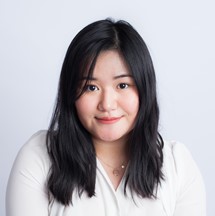 Marie Huynh
Msc Student
Chimie ParisTech
PSL University
CNRS
Institute of Chemistry for Health and Life Sciences
Laboratory for Inorganic Chemical Biology
+33 1 44 27 56 04
mariehuynh.pro@gmail.com
Marie was born in Paris in 1997. She started her pharmacy studies at "Université de Paris" in 2016 where she completed a bachelor of honor in pharmaceutical chemistry. She is currently in sixth year and undergoing a Master of Science in Biochemistry and molecular biology at Sorbonne University.
She has just joined the Gasser group for her Master of Science internship, working on the synthesis of new radiochelators, as part of an industrial collaboration
In her free time Marie likes to cook, draw and play board games; and she's always down for a couple drinks or a delicious meal with friends after work.
Publications
Huynh, M., De Abreu, M., Belmont, P. and Brachet, E. (2021), Spotlight on Photoinduced Aryl Migration Reactions. Chem. Eur. J., DOI: https://doi.org/10.1002/chem.202003507