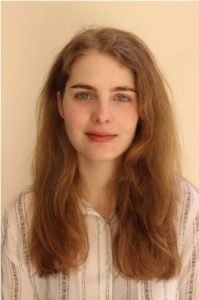 Niovi-Georgia Voutsara
Msc Student
Chimie ParisTech
PSL University
CNRS
Institute of Chemistry for Health and Life Sciences
Laboratory for Inorganic Chemical Biology
+33 1 44 27 56 04
niovouts@gmail.com
Niovi was born in Athens, Greece in 1994. She studied (elementary and high school) in St. Joseph, a Greek-French School. She is currently is a student at the School of Chemistry of the Aristotle University of Thessaloniki, Greece.
She participated in the 2nd Conference of Graduate Students of Chemistry of Aristotle University of Thessaloniki, in Thessaloniki, Greece, on the 2-3 November 2018, where she presented a poster entitled "Synthesis, characterization and biological activity of cobalt (II) complexes with nalidixic acid", N.-G. Voutsara, A. Hatzidimitriou, G. Psomas.
Currently, she is undertaking an internship in the Gasser Group at Chimie ParisTech.
She likes playing piano and guitar and reading books. She also likes to play basketball and loves hiking and travelling.