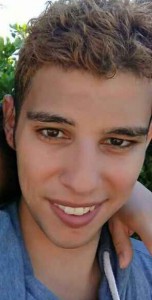 Ryad Karda
Msc Student
Chimie ParisTech
PSL Research University
Laboratory for Inorganic Chemical Biology
+33 1 44 27 56 04
ryad.karda@gassergroup.com
Ryad was born in the wonderful city of Paris in France. He has a Bachelor degree from the University Pierre and Marie Curie (Paris, France). Because he likes chemistry and biology, he chooses to undertake the internship of his Msc thesis between the Gasser and Thomas groups at Chimie ParisTech. He is currently working on the preparation of Ru(II) nanostructures  to create novel antibacterial drug candidates.
Ryad has other hobbies than science. He loves travelling with his mind by reading Sci-Fiction and Fantasy books. He also wants to travel in the real world as he did in 2016. In fact, he spent 8 months at Northwestern Polytechnical University in Xi'an (China), where he had the luck to learn a new range of knowledge, meet new people, climb mountains, swim in Chinese sea and eat wonderful and tasty dishes.
Since his childhood, Ryad likes biking. One of his dreams is to travel around Europe on his bike.