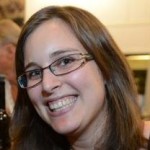 Sandra Morard
Undergraduate Student
Room 34-H-40
+41 44 635 46 86
sandra.morard@gassergroup.com


Sandra was born in 1989 in the country side of the canton of Fribourg. She completed her matura in the small city of Bulle with biology and chemistry as main subjects. In her matura thesis, she investigated the process of alcoholic fermentation and had the opportunity to take part in an internship at Firmenich, which was proposed by the foundation "la science appelle les jeunes".
After her matura degree, she decided to take a break and to travel to Australia where she was part time in an English language school and was working part time as an au pair.
After this year off, she decided to cross the "Röstigraben" and started to study chemistry at the University of Zurich, where she is currently undertaking her master thesis in the group of Prof. Gilles Gasser. She is studying ruthenium complexes and their use as potential anticancer and antimicrobial agents.
In her spare time, she enjoys skiing and cycling.