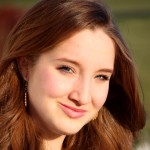 Seraina Huegli
Master Student
Room 34-H-40
+41 44 635 46 86
seraina.huegli@gassergroup.com


Seraina was born in Zurich the 29th of February 1992. After the elementary school she went to high school Rämibühl (focus modern languages) and graduated in 2010. After her matura she decided to study Biochemistry at the ETHZ. She finished her Bachelor in autumn 2013. Because of her interest in medicinal inorganic/organometallic chemistry she decided to do a specialized master in chemical and molecular sciences in the Gasser group at the University of Zurich. Since May 2014, she is trying to synthesize novel bifunctional chelating agents for the development of 89Zr based molecular imaging probes.
Besides her fascination for sciences she keenly plays the horn and work towards her Bachelor of Arts at the ZHdK.