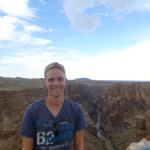 Severin Jeger
Master Student
Room 34-H-40
+41 44 635 46 86
severin.jeger@gassergroup.com


Severin was born in the picturesque town of Lucerne in 1991, where he also grew up. After completion of his primary education at the foot of the Mount Pilatus, he spent the next six years near the shore of Lake Lucerne, attending the biggest high school of Switzerland. For the next 21 weeks, he went on an unforgettable camping adventure with many neat hiking trips and, after a short intermezzo in a law firm, he worked in a medical lab of a hospital in Lucerne for half a year. Although he majored in Business and Law he decided to start his academic journey by studying chemistry at the University of Basel. After he received his Bachelor's degree, he decided to continue his education at the University of Zurich, where he is currently doing his Master thesis in the Gasser group.
Before he started his academic education, Severin used to spend a lot of his spare time playing the piano and he still enjoys to learn a new piece from time to time.
Another source of joy in his life are sports activities, which he especially likes to do together with friends. Furthermore he likes to be informed about what's happening around the globe and also hopes to be able to travel more often in future.