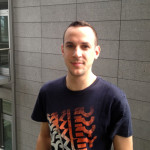 Severin Koch
Master Student
Room 34-H-40
+41 44 635 46 86
severin.koch@gassergroup.com


Severin was born in Buchrain, which is a suburb of Lucerne. Already being fascinated by chemistry during the high school, he decided to study chemistry at the University of Zurich. Since February 2016, he is working on his master study at the University of Zurich. For this purpose, he decided to join the research group of Gilles Gasser to work in the field of photodynamic therapy.
Beside chemistry, Severin likes to go mountain biking in summer. Most often downhill to get the right dosage of adrenaline but sometimes also uphill, when it is needed. In winter he likes to go snowboarding in the beautiful mountains of Switzerland. Good food is important for him and he likes to eat a lot of food, that is why he also likes to cook. However, most often he is too lazy to go for it, especially when it gets late in the even.