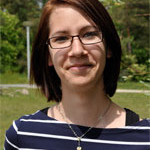 Vanessa Pierroz
PhD Student
Room 17-K-28
+41 44 635 34 77
vanessa.pierroz@gassergroup.com


Vanessa was born and brought up among one of most beautiful and sunny parts of Switzerland, Wallis. After her high school, she braved the fog and went to Lausanne to study biology at the University of Lausanne. After her bachelor in biology, she joined the laboratories of Dr. Pascal Schneider, in the Department of Biochemistry,  to undertake a Master in Medical Biology, that she obtained in February 2011.
To continue her academic career, Vanessa decided to leave behind the Lac of Geneva and took the opportunity to move to the coast of the Lake of Zurich in May 2011 to start a PhD thesis at the University of Zurich in the Gasser group. In collaboration with Dr. Stefano Ferrari from the Institute of Molecular Cancer Research (University of Zurich), Vanessa is testing the potential cytotoxic effect of metal complexes in living cells and organisms as well as trying to understand the mechanism of action of these new metallodrugs.
Besides biology, Vanessa isn't against a little physical exercise. She likes quiet walks in nature, to play badminton and to exceed her limits of fitness when time permits.
---
Publications
[4] C. Spagnul, R. Alberto, G. Gasser, S. Ferrari, V. Pierroz, A. Bergamo, T. Gianferrara, E. Alessio, J. Inorg. Biochem. 2013, 122, 57-65.
[3] M. Patra, K. Ingram, V. Pierroz, S. Ferrari, B. Spingler, R.B. Gasser, J. Keiser and G. Gasser, Chem. Eur. J. 2013, 19, 2232-2235.
[2] V. Pierroz, T. Joshi, A. Leonidova, C. Mari, J. Schur, I. Ott, L. Spiccia, S. Ferrari and G. Gasser, J. Am. Chem. Soc. 2012, 134, 20376–20387.
[1] M. Patra, K. Ingram, V. Pierroz, S. Ferrari, B. Spingler, J. Keiser and G. Gasser, J. Med. Chem, 2012, 55, 8790-8798.