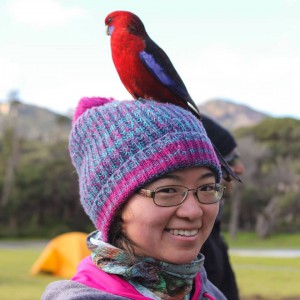 Dr. Yih Ching Ong
Post-doctoral Researcher
Chimie ParisTech
PSL University
CNRS
Institute of Chemistry for Life and Health Sciences
Laboratory for Inorganic Chemical Biology
+33 1 44 27 56 03
yih.ong@gassergroup.com
Yih Ching was born in Singapore, and moved to Melbourne where she completed her honours and PhD with Prof. Phil Andrews at Monash University on bismuth-based anti-leishmanial drug candidates. Afterwards, she moved to Paris where she joined the Gasser Group as a post-doc, working on anti-parasitic agents for schistosomasis.
Yih Ching enjoys outdoor activities like hiking, climbing, camping, canoeing and rafting. She loves travelling to new places, trying new types of food, cheese, wines and beers. She also enjoys receiving and writing long postcards to her friends and familys.
Her current research in Paris is focused on the synthesis and biological evaluation of new antiparasitic drug candidates.
Awards

2016    Selected as one of 34 finalists in Australia to attend the 67th Lindau Nobel Laureate Meeting 2017.
2015    Awarded the Best Poster Presentation, RACI Victorian Medicinal Chemistry & Chemical Biology Symposium. (Monash University Parkville)
2015    Awarded the Bruce O. West Award for Best Oral Presentation, Annual Victorian Symposium on Inorganic Chemistry (Monash University Clayton).
2013    Awarded the Faculty of Science Dean's Postgraduate Research Scholarship to pursue full-time PhD studies in the School of Chemistry.
2011    Selected to work in the Defence, Science and Technology Organisation's Summer Vacation Scholarship Program (DSTO Melbourne, Fisherman's Bend, Australia).
2010    Awarded the Monash Summer Research Scholarship Program.
Publications
C. Ong, V. L. Blair, L. Kedzierski, K. L. Tuck, P. C. Andrews; Stability and toxicity of tris-tolyl bismuth(V) dicarboxylates and their biological activity towards Leishmania major, Dalton Trans., 2015, 44, 18215.
Y. C. Ong, V. L. Blair, L. Kedzierski, P. C. Andrews; Stability and toxicity of heteroleptic bismuth(V) complexes towards Leishmania major, Dalton Trans., 2014, 43, 12904.
A. Loh, Y.C. Ong, V.L. Blair, L. Kedzierski, P.C. Andrews; Bismuth(III) α-hydroxy carboxylates: highly selective toxicity of glycolates towards Leishmania major, J. Biol. Inorg. Chem., 2015, 20, 1193.