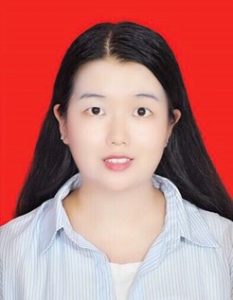 Yiyi Zhang
PhD student
Chimie ParisTech
PSL University
CNRS
Institute of Chemistry for Life and Health Sciences
Laboratory for Inorganic Chemical Biology
+33 1 85 78 41 53
yiyi.zhang@chimieparistech.psl.eu
Yiyi was born and grew up in Henan, China. She obtained her bachelor's degree in Bioengineering from Henan Normal University, China. Then she joined the lab of Prof. Liang Luo for her master's research at Huazhong University of Science and Technology. She received her Master's degree in Biopharmaceutical Engineering in 2021.
Currently, she is a PhD student at Chimie ParisTech, PSL University. She working on selectively deliver photosensitizers for photodynamic therapy to tumors.
Yiyi likes singing, cooking and enjoying nice food.
Awards
2021: CSC PhD Scholarship
2021: "France Science Excellence 2021–2022" Scholarship
Publications
[1] Liping Huang, Yiyi Zhang, Yanan Li, Fanling Meng, Hongyu Li, Huimin Zhang, Jiasheng Tu, Chunmeng Sun*, Liang Luo*. Time-programmed delivery of sorafenib and anti-CD47 antibody via a double-layer-gel matrix for postsurgical treatment of breast cancer. Nano-Micro Letters 2021
[2] Liping Huang, Yanan Li, Yunai Du, Yiyi Zhang, Xiuxia Wang, Yuan Ding, Xiangliang Yang, Fanling Meng, Jiasheng Tu, Liang Luo, Chunmeng Sun. Mild photothermal therapy potentiates anti-PD-L1 treatment for immunologically cold tumors via an all- in-one and all-in-control strategy. Nature Communications 2019